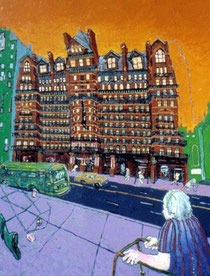 East Texas State University had a semester away program for graduate students. This was to encourage art students to move beyond the confines of Commerce, Texas. I decided to go to NYC. This was an enormous challenge. I had never worked on location in an urban setting. I didn't have a residence, nor studio. I did have relatives on Long Island but I knew I wanted to paint Manhatten. An abscess tooth landed me at the Chelsea Hotel. It was a little beyond my budget at $140 a week. I knew nothing about the history of the place until I landed there. 1983 NYC was insane. The city still had a pulse and inherent culture. I returned in August 2012 and was disappointed by NYC commercialism and lack of street culture.
The Chelsea has since closed, but in 1983, it was a hub for creative people of diverse economic backgrounds. I included the lady and her walker because I was impressed with the visibility of seniors in the Chelsea neighborhood. 
 I met a slew of characters living on the fringe. I was ablaze with creativity. It was a contact high from the city. The culture shock from Commerce, Texas to New York City was beyond description.